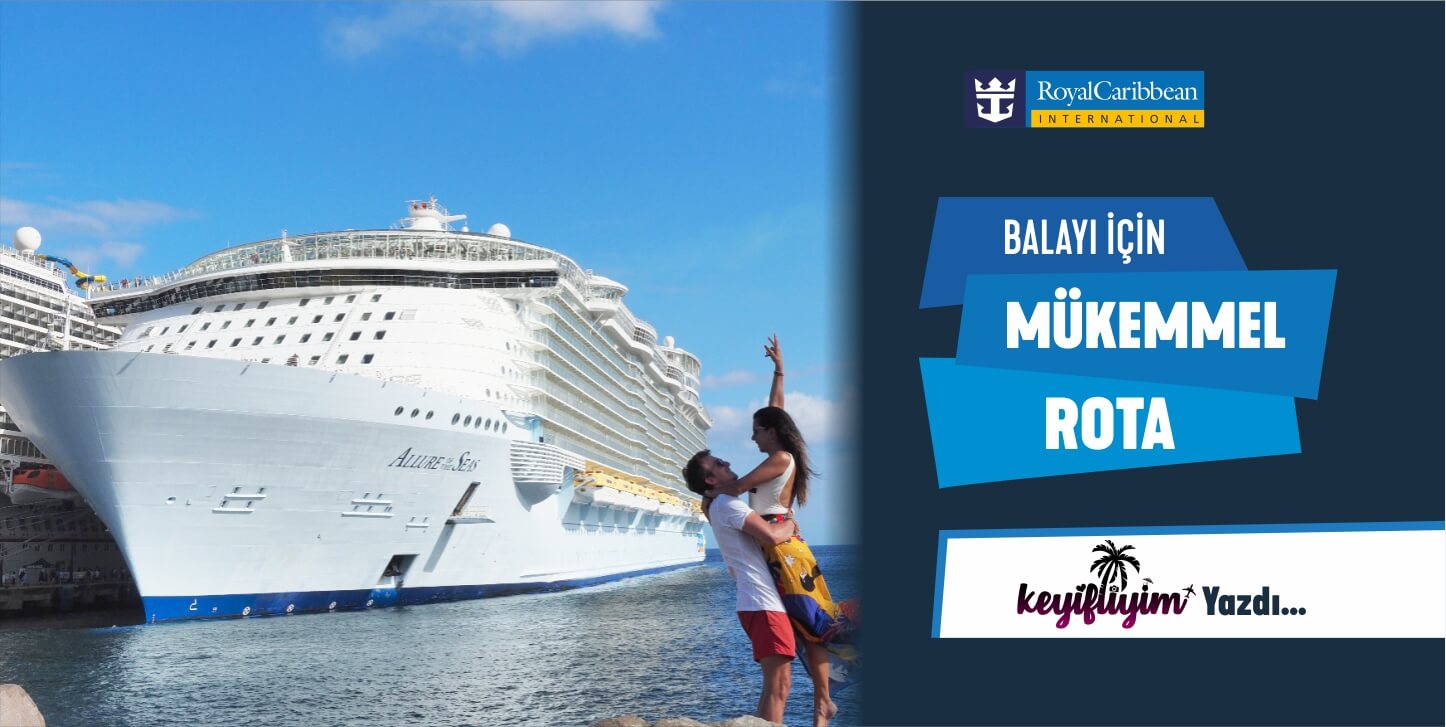 Keyifliyim'den "Balayı için mükemmel rota: Royal Caribbean Allure of the Seas Doğu Karayipler Gemi Turu"
Royal Caribbean Allure of the Seas Doğu Karayipler Gemi Turu
Maceramız Miami'den başlıyor bu defa. Miami'nin keyifli sahillerini, şehir merkezini gördükten sonra yıllarca hep büyük bir heyecanla merak ettiğimiz Bahamalar'a doğru yol alıyoruz. Bizim için bambaşka bir balayı deneyimi daha geliyor. Miami, St Kitts ve San Juan, Porto Riko ardından Bahamalar'a doğru yol alıyoruz. 

Bu yazımızda size Royal Caribbean Türkiye'nin Allure of the Seas gemisi ile yaptığımız rüya gibi bir balayı tatilimizden, Doğu Karayipler gemi turundan bahsedeceğiz. 
Istanbul'dan Miami'ye yaklaşık 12 saatlik uçuşun ardından varıyoruz. Miami'de hep filmlerde gördüğümüz Miami Beach'in, 90'ları andıran havasını soluyup, downtown bölgesinde şehir hayatını keşfediyoruz. 

Miami
Gemimizin kalkmasına daha bir kaç gün var. Biz bu defa erkenciyiz. Bu aradaki süreyi çocukluğumuzdan beri merak ettiğimiz Orlando'ya giderek değerlendiriyoruz. Unviersal stüdyoları, Disneyland, NASA ve daha bir çoğu.
Ardından tekrar Miami'ye dönüyoruz. Gemi günümüz gelmiş. Allure of the Seas gemisi için heyecanlıyız. Bu devasa yüzen otelde yapılacak onlarca aktivite var. Biz de gitmeden her şeyi araştırmışız. 
Gemide hangi gün nerede yemek yeriz, hangi gün zipline' biner, hangi gün geminin üzerindeki dalga havuzunda flow ride'ı yaparız diye notlarımızı almışız. Ama olmadı canımız bu aktiviteleri yapmak istemezse diye de, geminin en sessiz, en keyifli köşelerini, Solarium havuzunu, jakuzileri de öğrenmişiz.

Allure of the Seas, dünyanın en büyük gemisine bindik
Bunlar aklımızda bindik gemiye. Gemiye binmeden bavulumuzu kapıdaki alanda bıraktık. Üzerine bizim olduğunu belirten işaret edici stickerlar yapıştırdılar. Pasaportumuz ve gemiye biniş kartlarımız elimizde, check-in alanına gittik. Check-in işlemleri tamamlandıktan sonra da geminin biniş kapısına doğru yürümeye başladık. Hemen orada hatıra fotoğrafımızı çektiler. Sonra ince bir koridordan geçip gemiye bindik. Kapıda havalı bir karşılama.. 
Tamam, şimdi gemideki balayımız başlıyor, başladı!
Gemideki odamıza gittiğimizde, kartımız ve genel bilgiler kapıdaydı. Onları alıp içeri girdik. Sonra da gemi başlamadan önce yapılması gereken tatbikat için buluşma alanına indik. 
Tatbikattan sonra odamıza çıktığımızda bavulumuz bizi karşıladı. Gemideki odamızın dolabına eşyalarımızı yerleştirip, mayolarımızı giyip havuz kenarına gittik. Eğlence çoktan başlamıştı. Bir köşede canlı müzik, bir köşede geminin barı ve cafeleri..

İkinci ve üçüncü gün, gemi okyanusta seyrine devam ederken, gemiyi keşfederken, aklımızdaki bütün aktiviteleri yapabildik. Bu gemi o kadar büyük ki, içerisinde kaybolmamak için asansörlerin yanındaki yön göstericilerden ara ara yardım almak gerekiyor. 

St Kitts
Dördüncü gün olduğunda St Kitts adasına varmıştık. 
Biraz özgür ruhlu olduğumuz için, biz adayı motorsiklet kiralayarak gezmeye karar verdik. St Kitts haritada küçücük bir ada olsa da bir sürü keyifli koyu var. Sırasıyla hepsini gezelim diyip, 3-4 tanesini görebildik. South Friar's, Frigate Bay South, Cockleshell en sevdiğimiz 3 koy oldu. 

Gemide tura katılanların gittiği harika plajı duyunca da son durakta Carambola beach'e gidip, onlarla buluştuk.
Siz giderseniz, su sporlarının çok geliştiği St Kitts adasında, su kayağından, jet skiye, kanodan, sürat motoruna kadar bir çok alternatif olduğunu unutmayın.
Karayipler'in keyfini çıkardığımız ilk durak St. Kitts'ten keyifli anılarla ve denizi doya doya yaşamış olarak ayrıldık. 
San Juan, Porto Riko
Ricky Martin'in memleketi, Despacito'nun ana vatanı, Pina Colada'nın doğum yeri olan Porto Riko, Royal Caribbean Allure of the Seas gemisi ile yaptığımız Doğu Karayipler turunun beşinci gününde en sıcak en içten haliyle karşıladı bizi. 

Limandan iner inmez, Colon Meydanı'na doğru kısa bir yürüyüş yaptık. San Juan eski şehrinin arnavut kaldırımlı renkli sokaklarında bol bol rengarenk fotoğraflar çektikten sonra, Fortaleza'ya doğru geçtik. Fortaleza Eski San Juan'ın hem el işi hediyeliklerini bulabileceğiniz hem de restoranlarında yemek yiyebileceğiniz keyifli sokaklarından biri. Tepeye asılı renki şemsiyeleri görünce birer hatıra fotoğrafı çektirmek de ihmal edilmemeli. 
Adanın limana göre diğer tarafına doğru geçtiğinizde ise San Juan Ulusal tarihi alanı ve San Felipe del Morro kalesini görüyorsunuz. Buradan, tepeden bir manzarayı seyre dalıp, okyanusun dev dalgalarının Porto Riko'da karaya vuruşunu izledik. 
Son durağımız ise Pina Colada'nın ilk keşfinin yapıldığı Barrachina oldu. Orjinal haliyle Pina Colada'yı denedikten sonra, San Juan'ın renkli sokaklarında elele gezerek gemiye doğru geri döndük. 
Dönüş yolu üzerinde hediyelik eşyalara bakarken, gözümüze çarpan küçük renkli kurbağanın ise coqui, yani Porto Riko'nun sembolü olduğunu öğrendik.
Gemide seyir günü
Altıncı gün gemide gündüz Aquarium'daki şovları izleyip, Boardwalk'taki meksika restoranını denedik. Akşam kaptanın gecesi olduğu için bavulumuza koyduğumuz özel kıyafetleri giyip yemeğe öyle geçtik. 

Nassau, Bahamalar
Sondan bir önceki gün, yani 7.günde yıllardır hayallerimizi süsleyen Bahamalar'daydık. Suyun rengi mavinin bütün tonlarını almış, her göreni büyülüyordu. Jaws filminin çekildiği sahillere mi gitsek, Nassau merkezde mi dolaşsak derken, hepsini birden yapmaya karar verdik. Cable Beach, Jaws Beach, Love Beach ve Paradise Beach'i gördükten sonra Nassau şehir merkezine geri döndük. Burada romlu keki denedik ve gemiye dönüşün yolunu tuttuk.

Rom ve romlu tüm yiyecek, içecekler Karayipler'in vazgeçilmezi olmuş. Gittiğinizde Pina Colada gibi içecekleri bile alkollü ya da alkolsüz olarak keyfinize göre tadabiliyorsunuz.
Son gece
Son gece aklımızda geçirdiğimiz muhteşem bir haftanın hatıraları vardı. Gemide yeni edindiğimiz arkadaşlarımızla birlikte son akşamın tadını çıkardık. Hiç bitmesin istediğimiz bir rüya gibiydi. 

Ertesi gün yeniden Miami'ye vardığımızda bir sonraki rüyada, bir sonraki gemi turunda buluşmak üzere sözleştik ve Miami'den yeniden Istanbul'a doğru yol aldık. 
Yeni maceralarda görüşmek üzere
Kendinize iyi bakın!,
Miray ve Tolga Öncü, @keyifliyim
Royal Caribbean Uluslararası Marka Elçisi.