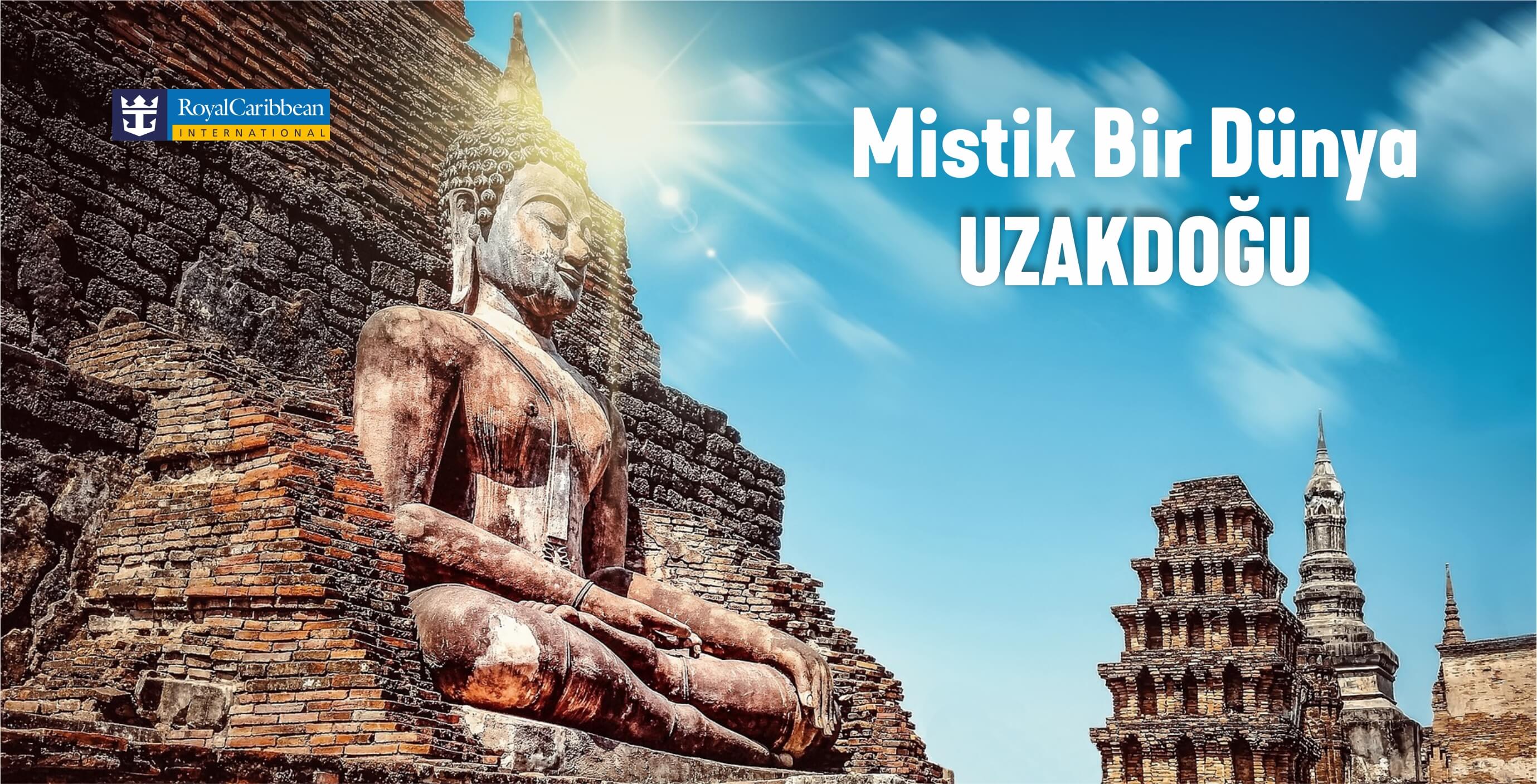 Mistik Bir Dünya : Uzakdoğu
Dünyanın en eski ve en orijinal kültürleri, asla ışıksız kalmayan caddeleri ve felsefi öğretileriyle tüm dünyaya ün salmış bir coğrafya, popüler tatil destinasyonu; Uzakdoğu…
Avrupa'nın birbirine benzeyen şehirlerinin aksine, kendine has yeme-içme kültürü, yaşayış biçimi ve günlük hayat rutinleri ile ilgi çeken ve son zamanların en çok seyahat edilen rotası!

Royal Caribbean Cruises, Asya & Uzakdoğu'nun mistik ve egzotik dünyasını keşfe çıkacağınız iki farklı gemi seyahat rotası sunuyor sizlere… İlki Singapur kalkışlı, Quantum of the Seas ile vize gerekmeksizin Malezya & Tayland gemi turu, diğeri ise Hong Kong, China kalkışlı, Voyager of the Seas ile Japonya turu!

İlk gemi turunu tercih ederseniz, Bangkok, Phuket, Singapur'u ve Malezya'nın en güzel kentlerini keşfedebilir, bembeyaz pudra kıvamında plajlarda denize girebilirsiniz. İster snorkelling, ister diving yapın, Uzakdoğu'da sualtı bambaşka bir deneyim vadediyor. Otantik balıkçı kayıkları ile James Bond filmine ev sahipliği yapan adayı keşfe çıkabilirsiniz.

Cıvıl cıvıl yaşantısı, sıra dışı eğlenceleri ile dikkat çeken ve aynı zamanda dünyanın en modern, en temiz ve en güvenli bölgelerinin başında gelen Singapur'da, binaların ihtişamı ve görselliğine ve görülmeye değer manzaralara hayran kalacak, kültür hazinesinde dolaşacaksınız.

Vizesiz Japonya cruise turunda ise Hong Kong, Okinawa, Kobe, Kyoto, Kochi, Hiroshima, Kumamoto, Fukuoka, Sasebo ve Kagoshima kentlerini ve günün her saati dolup taşan büyüleyici sokakları zahmetsizce gezebilirsiniz.

Uzakdoğu'nun hemen her ülkesinde gece uzun yaşanır ve şehirler sabahın ilk ışıklarına kadar hareketlidir. Akşamları hava karardığında da Uzakdoğu'da güvenle dolaşabilirsiniz.

Uzakdoğu'nun teknoloji devi Japonya! Özellikle elektronik konusunda dünyanın en uygun alışverişini Hong Kong, Singapur veya Tayland'da yapabilirsiniz.

Her an bir festival veya ritüele denk gelebilirsiniz. Uzakdoğu'nun geleneksel kıyafetleri ve zerafeti seyahatinize farklı bir ambiyans katacak!

Uzakdoğu'nun damak çatlatan lezzetleri var. Geleneksel Japon mutfağını deneyimlemekten çekinmeyin, daha önce tatmadığınız lezzetler keşfedeceksiniz. Özellikle sokak lezzetlerini deneyin, çok şaşıracaksınız.

Uzakdoğu kültüründe özellikle de Japonya'da tapınakların büyük bir önemi var, tapınaklar belli bir dinin ve inanışın temsili konumunda… Paris kadar büyük tapınak mı olur? Japonya'da ise olur!

Japonya'da doğa, tarih, kültür ve leziz yiyecekler… Hepsini bir arada bulabilirsiniz.
Acele edin, bu özel turları kaçırmayın! Yüzen şehirleri andıran, özel aktivitelerle dolup taşan, lüksün de lüksü Royal Caribbean Cruises gemileri ile macera ve adrenaline, eşsiz bir seyahat deneyimine hazır olun! Bir kere gemi seyahati yaptığınızda, hep gemide tatil diyeceksiniz!
Promosyonlu vizesiz Uzakdoğu & Japonya Turlarını görmek için tıklayınız.