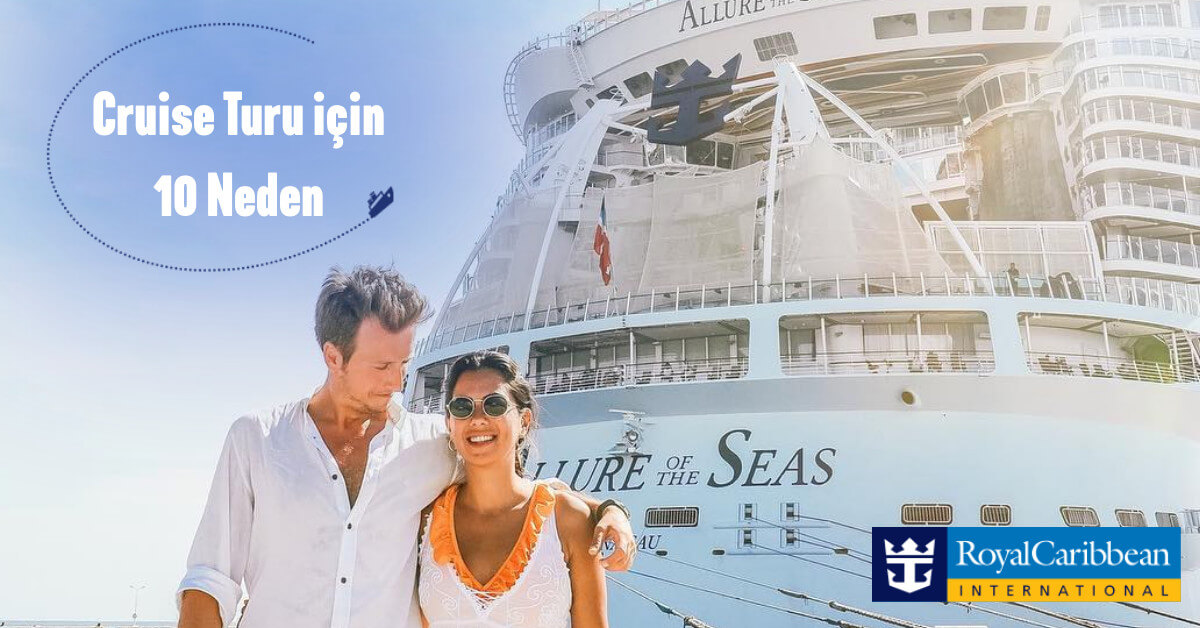 Marka Elçilerimiz Miray & Tolga Yazdı. "Cruise Turu Yapmak İçin 10 Neden"
Cruise Turu Yapmak İçin 10 Neden
1) Tek bir cruise turunda birden fazla şehri görme imkanı
Cruise ile gemi turuna çıktığınızda her akşam başka bir limanda uyuyup her sabah başka bir limanda uyanıyorsunuz. Hayal edin, San Juan, Porto Riko'dan geminize döndünüz, keyifli bir akşam geçirip uyudunuz, uyandığınızda Haiti'de Labadee limanındasınız. İşte tam olarak Royal Caribbean Allure of the Seas gemisi Doğu Karayipler turunda bunu yaşadık.
Biz yeni gideceğimiz cruise turuna hazırlanırken. Kendi aramızda 'Neden cruise turunu bu kadar çok seviyoruz' diye konuştuk. Sonra başladık sıralamaya: 'Cruise turu yapmak için 10 Neden' yazımız da böylece ortaya çıkmış oldu. Sizinle de cruise turunu niye sevdiğimizi bu yazıda paylaşıyoruz.


2) Gün doğumu ve gün batımları
Okyanusun ortasında güneşin tüm tonlarını doya doya izlemeye ne dersiniz? Garanti ediyorum bugüne kadar izlediğiniz tüm gün doğumu ve gün batımlarından çok daha güzel. Cruise turunda ister güverteden isterseniz odanızın balkonundan okyanusun ortasında güneş ışınlarının rengarenk danslarına eşlik ediyorsunuz.


3) Bavul aç-kapa YOK.
Ah işte benim (Miray ben:) ) cruise turundaki favorime geldik. Cruise turunda bu kadar çok bir arada şehri gezerken, bavul açma – kapama ile uğraşmıyorsunuz. Bir şehirden diğer şehre otel değiştirmiyor, bavul taşımıyorsunuz. Tek bir defa, mümkünse ilk gün, bavulunuzu açıp yerleştiriyorsunuz eşyalarınızı dolaba. Yeni bir şehre vardığınızda tek yapmanız gereken dolabınızdan o günün kıyafetini seçmek oluyor
4) Cruise gemilerinde 7/24 yiyecek bulabilirsiniz.
Cruise gemisinin içerisinde o kadar fazla yeme-içme alternatifi var ki, canınınız ne isterse onu yiyebilirsiniz. Açık büfe ya da hamburger, sosis ya da sushi…
Bir de özel şeflerin sunduğu özel restoranlarda yeme-içme imkanınız var.
Royal Caribbean Allure of the Seas gemisiyle gittiğimizde her akşam farklı bir tat denemek istedik. Bir akşam herkesin belirli bir saat için daha gemiye binmeden önce rezerve edilmiş özel masasının olduğu ana yemek salonunda usta şeflerin ellerinden ıstakoz yedik, bir diğer akşam Windjammer Cafe'de açık büfedeydik, birinde canımız sosisli sandviç istediği için alt katta orta alanda yer alan Dog House'da sosis yedik. Bunun yanı sıra Central Park olarak adlandırılan (gerçekten de yapısı Central Park gibi) orta meydanda, Park Cafe'de sürekli yer alan atıştırmalıklardan ve Sorrento isimli Italyan restoranındaki pizzalardan da gün içerisinde istediğiniz zaman servis alabiliyorsunuz. Üstelik bunların hepsi cruise turuna dahil olan hizmetler.
Bunlar haricinde, eğer isterseniz 150 Central Park, Chef's Table, Chops Grille ya da Izumi gibi özel restoranlarda da yemek yiyebilirsiniz.
Kısaca siz ne yemek isterseniz orada hazır sizi bekliyor.
(Not: Bu kısmı ben yazarken karnım acıktı, sizin canınız hangisini çekti?)


5) Cruise gemisinde aktivite bolluğu var!
Cruise ile gemi turuna giderken herkesin aklında başka bir tatil oluyor. Kimisi dinlenmek kimisi eğlenmek için cruise turuna katılıyor. Siz hangi sebeple katılırsanız katılın, cruise turundaki aktivitelerden kendinize göre bir tane bulabiliyorsunuz.
Bir cruise gemisini nasıl yaşamak isterseniz öyle yaşayabilirsiniz.
Adrenalin seviyorsanız, Royal Caribbean Allure of the Seas gemisindeki Zipline gibi bir aktiviteye katılabilirsiniz.
Golf ya da basketbol? Hangini tercih edersiniz? İkisini de cruise turunda gemide yapabilirsiniz.
Ya da crusie gemisinde yeni bir dans öğrenmeye ne dersiniz?


6) Cruise turunda SPA bile var!
En dinlendirici birden çok destinasyonu görebileceğiniz seyahat tipi cruise turu ile yapılanlar olmalı. Zira cruise gemisinde SPA bile var! Gidecek olursanız ilk günden rezervasyon yaptırmayı unutmayın. (Bu da bizden size minik bir tüyo olsun)
7) Dünyaca Ünlü Şovlar Cruise Gemisinde!
Bir cruise turu aldığınızda aynı zamanda dünyaca ünlü şovlardan biri ya da bir kaçına bilet de almış oluyorsunuz. Biz Royal Caribbean Allure of the Seas gemisinde Mamma Mia'yı bile yeniden izledik. Muhteşemdi!
Bu şovlar da cruise turuna dahil oluyor. Yalnızca ilk günden gidip rezervasyon yapmanız gerekiyor o kadar.


8) Okyanus Fotoğrafları!
En güzel fotoğraflar kesinlikle okyanus ortasında olanlar! İsterseniz kendi kameranızı götürüp cruise gemisinde okyanus manzarasıyla bir fotoğraf çekebilirsiniz. Ya da cruise turunda, gemilerde profesyonel fotoğrafçılar da sizi çekebilir. Her türlü eve binlerce anı ve binlerce fotoğraf ile döneceksiniz.
9) Cruise turunda sürpriz masraflar yok!
Bu kadar çok şehri en uyguna gezme yollarından biri cruise ile gemi turu. Royal Caribbean Türkiye'nin uçak dahil paketlerinden birini alın. Uçak + Otel + Yeme-İçme hepsi dahil olsun. Yalnızca gemi bahşişi, içki paketleri ve bir de indiğiniz limanda bir tur almak isterseniz onlar ekstra oluyor. Hepsinin ne kadar olduğu da önceden belli. Yani cruise turunda son anda bir sürpriz masraf ile karşılaşmıyorsunuz.


10) Duty Free de sizinle birlikte seyahat ediyor!
Alışveriş meraklıları için en ilgi çekici kısmı bu galiba. Cruise gemilerinin bir bölümü sizinle birlikte seyahat eden bir duty free olarak tasarlanmış. Cruise turu sırasında herhangi bir koşturmaca yaşamadan, rahat rahat, istediğiniz zaman duty free alanından indirimli alışveriş yapabilirsiniz.
Cruise turu ve cruise gemileri ile ilgili herhangi bir sorunuz olursa dilediğiniz zaman miraytolgaoncu@gmail.com adresimizden bize yazabilirsiniz.
Umarım cruise turu ile ilgili bu yazımızı keyifle okumuşsunuzdur. Cruise turuna daha önce katıldıysanız ya da yeni bir cruise turu planlıyorsanız bize ister aşağıdaki yorumlar kısmına yazarak isterseniz e-mail atarak haber vermeyi unutmayın!
Siz bu yazıyı okurken biz bir cruise seyahatinde olabiliriz. Instagramımıza bakarak bunu öğrenebilirsiniz.
Şimdiden keyifli seyirler!
Sevgiyle kalın,
Keyifle kalın!
Miray ve Tolga Öncü
@keyifliyim